Astrix is truly one of the best artists in the Psychedelic Trance genre of modern times. His music is definitely uplifting and with a powerful message interwoven beautifully among the hypnotic synth basslines and melodious midi sequences in his tracks ! Scientific Reality @ Vision Quest 2002 is one of the best videos of an outdoor gathering i have ever seen ! Truly Top Notch ! ((( Good Vibes ))) ....

Astrix ('Avi Shmailov - אסטריקס) is a Psychedelic Trance DJ and producer specialising in the sub-genre of Full On Psychedelic Trance.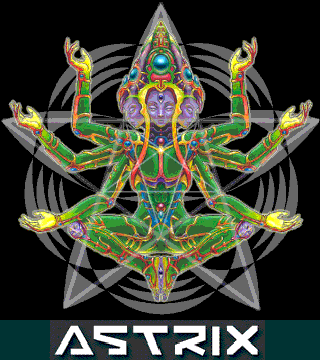 He was born in Georgian SSR in Caucasus on 05/12/1981 and grew up in Tel Aviv, Israel 1992 as a Mountain Jew. He began recording music under the name Astrix in 1997, sometimes misconceived to be taken from the "Asterix" comic books. An interview on UK clubbing website Harderfaster.net revealed the name was chosen for simply sounding good, and not directly influenced by anything in particular.

In 2006 Astrix reached #41 (+34 raise) in DJMag's "Top 100 DJs" yearly rank along with raise of several other Israeli musicians (the highest being Infected Mushroom ranked #12)[1] marking significant worldwide popularisation of Israeli electronic music scene.

In 2007 Astrix reached to #18

Astrix's music is known for his solid, driving basslines and ascending melodies. It is very uplifting and, as far as psychedelic trance goes, fairly "hard" and is also usually played during sunrise and the morning at outdoor trance parties. Many would consider his style to be a crossover between "full-on" and the "clubbier" end of Trance, exemplfied by his Psychedelic Academy Mix !

Astrix's Discography as on 1st of Dec, 2008 :

* Eye to Eye (HOM-Mega Productions) (2002)
* Artcore (HOM-Mega Productions) (2004)
* Coolio (HOM-Mega Productions) (2004)
* Closer to Heaven (Tokyo Dance) (2007)
* Psychedelic Academy (compilation) (Hit Mania UK) (2005)
* Red means distortion (2008)
* Future Music (2007)

You can download most of these tracks and some more collaborated unreleased tracks in one single torrent file here !